Imagine a morning when you wake up with you both your feet soaked in the water. Scary right? It certainly is. Whether it's because the water heater broke, the washer's hose broke, or the upstairs neighbor left their tub running for too long, you have to react and quickly. Before you panic, we've prepared this handy, step-by-step guide for you to follow in the event of water damage.
Step 1 – Close everything
Shut off all water sources in the house first to prevent the damage from getting worse. For example, if you are in an apartment, the leak may be coming from the upper floor. Go upstairs quickly and ask to cut off the source of the leak. Also, avoid using outlets and electricity in the flooded room. Water and electricity do not mix well and can cause a short circuit and potentially a fire.
Step 2- Save the furniture
In order to avoid losing furniture or souvenirs, hurry and move as many items as possible from the flooded room to a dry place and away from any other potential damage. If your personal belongings are already affected by the leak, place them outside (if possible) to dry out as much as possible and thus prevent the appearance of mold.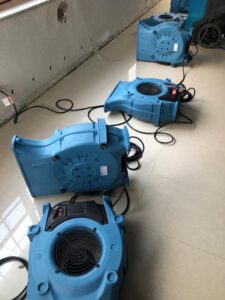 Step 3- Pick up the phone.
While your first instinct would be to contact a water damage repair company, you need to call your insurance company first. This generally works with a specific agency that can offer you this type of service. Next, your insurer will appoint a claims adjuster who will be able to give you some advice on the next steps. Then it's time to call the water damage repair company.
If you are in an apartment, communicate quickly with your landlord, while if you are in a condo, notify the condominium association, especially if it affects other units than yours.
Step 4- Photograph
In order to properly document the incident, be sure to take pictures of the entire water damage site and damaged objects BEFORE the water damage repair company arrives. You will thus have references for your file. Do this even if you are in an apartment because you may have to make a claim with your insurer for some damage to your personal property.
Step 5- Clean
Although the water damage repair company takes care of drying walls and floors, wet carpets and damaged furniture should still be removed, and soaked items should be thrown out. Sometimes the damage stretches beyond what can be seen at first glance, so don't take a chance; clean it up.
Step 6- Repair
Once the insurance claim has been completed with your insurer, the cause of the water damage identified, you will be authorized to begin repair work related to the loss. Some insurance companies favor a contractor, while others will leave the field open to you. One thing is certain, hire someone professional to guarantee the water damage repair work to avoid unpleasant surprises years later.
As simple as it may sound, depending on the nature of the water damage in question, going from step 1 to 6 can sometimes take several weeks or even months. You have to be patient and, above all, do not skip any steps! And now, if you are looking for a team of professionals for water damage repair in South Florida, do not hesitate to contact Ediss Mold Remediation. We are a team of professionals known for water damage restoration. Contact us today and let us help you bring back your house to its original condition. Call today for service at 877-841-1665