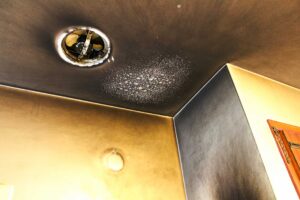 Fire damage is agonizing. Seeing your belongings or property affected by a fire is hard to process, and knowing what to do during the aftermath can be stressful and daunting. Contacting the right people is the first step in getting fire damage taken care of. Ediss Mold Remediation & Restoration focuses on restoration due to mold, water, and fire damage and has proudly served South Florida for over 15 years. We understand the effects the fire leaves behind and how unnerving it can be to know how to move forward. Located in Dania, Florida, we do all we can to meet the needs of South Florida citizens who have been affected by water damage, mold, and fire damage. Our main goal is customer satisfaction, and we will gladly get the job done for you.
Fire Damage Restoration
Ediss Mold Remediation & Restoration knows the ins and outs of fire damage and how to restore both residential and commercial properties that have been affected by it. Accidents happen at any given time, and a bonus of letting us help you out is our 24/7 emergency services. We make it a point to be available at any time of day or night so that we can promptly be on site to help restore your property. Fires leave far more damage than just the destruction of property. Harmful remains of carbon particles and smoke can greatly affect your health if left untouched. Ingesting these particles can affect your breathing, causing asthma and respiratory illness. Don't attempt to take care of fire damage on your own, further risking your own health. Our professionals have the proper protective equipment and training to do the job effectively and safely. We can inspect the property's structure and determine what needs to be done to achieve a full restoration. We will clean the area and complete an ozone treatment so that the property is safe and clean. Ediss Mold Remediation & Restoration works with most insurance companies, making it easy for you to get started with your fire and water damage restoration.
Fire emergencies require an accelerated response which is why choosing Ediss Mold Remediation & Restoration is so important. We can be there day or night, on holidays, weekends, and so on. No job is too big or too small, and we see that the job is completed safely and effectively. Call us today at 877-8-411MOLD to get a jumpstart on your fire fire damage restoration services. We aim to clean up South Florida with professionalism and success.