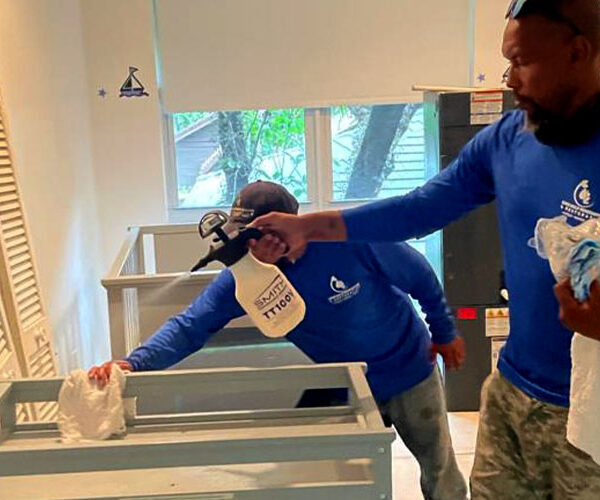 Are you in need of a Mold Inspection or Attic Insulation?
At Ediss Mold Remediation & Restoration, we have experts ready to go with guns blazing and remove it from its source. From licensed mold treatment specialists to cutting-edge equipment our Mold Removal Rotobrush Beast, we are fully loaded to rescue you from mold infestation – no matter how serious it is.
Project: Dania Beach Mold Removal Rotobrush Beast
Location:
Dania Beach Home
Phase One
Mold Removal Rotobrush Beast
This is a new Mold Removal Project recently completed in Dania Beach. The client had a roof leak and mold growing in his AC ducts because of poor insulation there for, this created condensation. The ceiling  was opened up cleaned and attic with antimicrobial disinfectant using a hot fogger. To finish the attic was sprayed with an antifungal and encapsulating paint called Aftershock. This paint prevents any spores to travel, it locks them in place. Wen use Aftershock in any Mold Removal Rotobrush Beast job that we do.
Second Phase
Once completed the remediation, new insulation was blown in and all air ducts were cleaned . Our team clean ducts with our state of the art Mold Removal Rotobrush Beast machine. All areas were Hepa Vacuumed and disinfected prior to the client coming back to the house. Air scrubbers ere ran  to clean and dehumidifiers to reduce moisture in the air.
In conclusion the home owners were pleased to have their home back in time for the Holidays. Using  our own Mold Removal Rotobrush Beast process we were able to help.
Call (877) 841 1665
Mold, Fire & Water Damage Experts
Our Team works across fire, mold and water damage divisions, all available for emergency calls night and day. Our broad range of skill sets and experiences means that Ediss Mold Remediation and Restoration can work to restore your property to normality as quickly as possible. We use state of the art equipment like our Rotobrush Beast Air Duct Cleaning tool. Our Mold Removal process is surpassed by none, we go above and beyond to obtain the best results for our clients.
Call For A Free Evaluation
24/7 Emergency Response Available!
(877) 841 1665
Fully Licensed General Contractor